The Dan Thorpe Acoustic Academy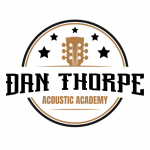 Exclusive "Deep Dive" Monthly Bonus for February 2021. Join by the end of January to get the full, downloadable video lesson along with tab.
Learn how to play 2 x two finger shapes and how to move them up and down the neck. This will allow you to create beautiful sounds and give you endless fun. Join the DTAA to get this lesson on the 1st Feb.