Elite  Guitarist  Inner Circle
In Focus
Fingerstyle! – 4 Core techniques to get a more professional fingerpicking tone (that most guitarists don`t know about)
---
For this month`s In Focus lesson we are going back to basics a little. When I say this lesson is one of the most important lessons most of you will ever learn, I am not exaggerating.
Over the years of teaching fingerpicking, I have started to notice more and more the inherent lack of ability of fingerpicking guitarists to strike a note with 100% clarity with their picking hand.
This leads to substandard tone, substandard control, substandard dynamics and less all round enjoyment for the listener and the performer.
I have a motto in music that I heard somewhere once, (I`d love to credit who came up with it and buy them a beer but I can`t for the life of me remember who it was), and it goes like this:
The fretting hand is the brain
The picking hand is the soul
It basically means the fretting hand`s job is to focus on doing the mechanical things such as fretting notes, making chord changes, playing the correct scale, etc. and the picking hand is what turns these mechanical things into actual amazing music.
Always, always aim to improve your picking hand tone
This is achieved in an infinite amount of ways including the use of lots of different subtle ideas such as dynamics, pick angle, strumming variations, quality of the strike of the string, etc.
All these little things add up to make a huge difference.
When I first started teaching guitar I put a big focus on getting the fretting hand up to standard.
This was fine as most guitarists would have weak control with their fretting hand fingers (you will probably be able to identify with this either now or from your earlier days of playing).
In other words having a lack of ability with the fretting hand is super obvious as it means slow chords changes, buzzing notes and a general amateurishness in your playing.
What is not so obvious with non-professional fingerpickers is the lack of ability with the picking hand.
So often they strike the strings in such a poor way they are literally just hitting and hoping it will sound okay. Sometimes it sounds better than other times but a lot of this is pot luck.
It`s time for that to stop.
In this lesson, I`ll give you a couple of tests and my best advice on how to strike those strings like a classical virtuoso…
Classical guitarists often have incredible picking tone
I`ll let you in on a little secret if you ever get stuck with your picking hand technique – classical guitarists are usually a million miles better in this regard than any other type of guitarist I have come across.
In many parts of the classical world a massive emphasis is placed on picking hand technique but in more pop based playing the guitarist is often expected to work out good tone for themselves.
There is something to watch out for though. The problem is classical players are often taught in such an anal over the top way you have to get past all the extra (usually unnecessary) stuff.
If you have ever tried reading Giuliani`s 120 Right Hand Studies you will know how much emphasis they place on this.
When I first looked at the book I was taken aback at how much effort and time this author and classical players put into their picking hand. (It always annoys me a little that those in the classical world assume everyone is right handed – shouldn`t it be Giuliani's 120 Picking Hand Studies, anyway I digress).
The Pick Test
Part 1a
Fingerpick the following simple chordal piece and listen carefully to how it sounds.

Just play it as you normally do.
Part 1b
Now, grab a pick and play the same piece again.
It is exactly the same – just this time play it with a pick.
Again, don`t try anything different just play it as you would normally with a pick.
Part 2a
Now fingerpick this simple A minor melody which is all on one string. (You can use your thumb for each note or alternate index and middle fingers).

Part 2b
Once again, play the same part but this time use a pick.
What did you notice?
Did one sound better than the other?
Was one louder and one quieter?
Did one sound stronger and one sound weaker?
Was one more accurate than the other?
You should have a good idea which one you prefer the sound of.
If not, play both again, then read on….
Tone is often better with a pick but comfort is often better without
In my vast experience of teaching fingerpickers, anyone other than someone who is either a pro or is nearly at pro level has a better tone when using the pick.
Oh, what irony.
They want to fingerpick; they feel more comfortable fingerpicking, often are more accurate fingerpicking, and they generally really dislike using a pick but their tone sounds better when using a pick. Now, you might be the exception to this.
If so, great.
If you are really truly happy with your fingerpicking tone, then you might not need today`s lesson but the truth is even great fingerpickers like John Williams and Andres Segovia spent their whole careers and lives looking to improve their fingerpicking tone, so we should do so too.
I don`t think you can ever get to a point where you can say you have perfect picking hand tone and technique.
This is down to the limitless variables that are available to this hand.
I have never really played or performed a piece where I can truly say that I am 100% happy with every single note my picking hand picked where as my fretting hand is usually on the money more often than not.
Okay, let`s start improving your picking hand once and for all.
What you will read here is hard to find information that is more elusive than it should be. Do a quick Google search for basic fingerpicking technique and you will see what I mean.
It is just full of exercises, novice level stuff such as which finger hits which string and other super beginner ideas.
Let`s get down to business.
1) Get a better picking `angle` to stop striking along the string
Many guitarists have a hand angle that leads to a poor and weak scratchy tone. This is because they are plucking the string with their fingers at the wrong angle just like in the following image.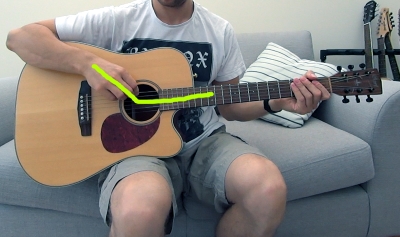 Notice how in the above image the angle is quite wide. This will lead to the fingers plucking along the string as opposed to across it. This usually means one thing – a weak and scratchy tone.
You should instead aim to pluck at a 90-degree angle (or fairly close to 90 degrees). This angle will get rid of that scratchy tone almost instantly and it will give you a bigger and brighter volume.
This is one of the many reasons I am such a fan of the classical posture of playing as it makes it easy to hit the strings at a better angle which is closer to 90 degrees rather than being close to 180 degrees as in the top image.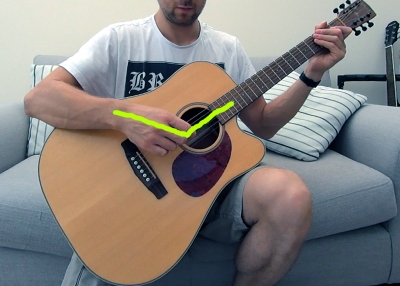 Carefully compare the two pictures from above and see how in the bottom image my fingers are pointing closer to a right angle to the strings.
If you don`t play in the classical position then you really have to twist and manoeuvre your picking hand in a more uncomfortable position to achieve this angle. This weird position can be uncomfortable at best and painful at worst. Worse still, it can cause joint pain in your picking hand wrist. Make it easier on yourself, sit in the classical position.
If you do so, generally you will naturally be plucking at a better angle, (but use a mirror to check).
It will allow you to pluck the strings at a better angle which in turn gives you a better and stronger tone – all without having to contort your wrist in some weird way.
2) Strike with the same part of the finger each time
The first thing to do is to ensure you are plucking the strings with the same parts of your finger every time.
Too many beginners pluck with random parts of their fingertips, sometimes using some nail, sometimes no nail and sometimes a little bit of both.
Play the exercises from earlier again slowly plucking every note with the correct finger and using the same parts of the finger for each note.
Remember:
Thumb plucks low E, A, D strings
Index plucks G string
Middle plucks B string
Ring plucks high E string
When playing these exercise, pay very close attention to which part of each finger is hitting the string.
3) Get your picking hand higher than it is already
Many fingerstyle guitarists come from either playing electric guitar or from being an acoustic strummer. This is great as it allows them to do simpler things, to begin with, but the downside is that those styles require and encourage different hand positions as to what is needed in fingerstyle playing.
For example:
When playing electric guitar you often do something called `palm muting` which requires you to place the edge of your palm on the bridge of the guitar for a tight sound.
When strumming an acoustic guitar your hand is constantly moving in an up and down motion.
If you play both of these styles a lot your picking hand probably isn`t used to being in the optimal position for fingerstyle.
Many beginner fingerstyle players keep their picking hand really low and close to the strings. This means their picking hand is all bunched up and full of tension.
If you fingerpick with a lot of tension in this hand, this may be the cause.
Bunched up fingers definitely cause tension in the fingers which produces a weaker tone and a less pleasant playing experience. 
See the image below.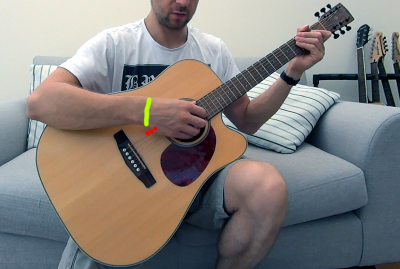 The yellow line is my wrist and the red is the low E string. Can you see how close together they are?
Now, look at the following image.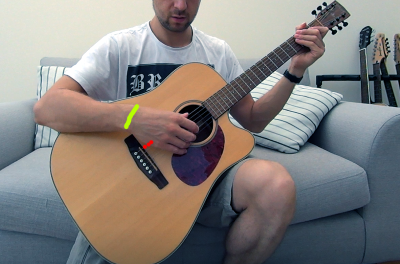 Once again, the yellow line is my wrist and the red line is the low E string. Can you see how much further away and higher up my wrist is?
This means my hand is further away, therefore I can straighten my fingers out further allowing me to keep them relaxed and get a stronger and better tone.
Ideally, keep your hand reasonably high. Obviously, don`t get too high so that it is uncomfortable or you have to `reach` for the strings.
4) Hear the power of the `rest stroke` and start practising them!
This tip is one I wasn`t really aware of for quite some time once I started fingerpicking.
It is the difference between rest and free strokes.
Rest stroke – pluck the string and rest the finger on the next string
Free stroke – pluck the string and let it pass over the next string
Free-strokes are what most guitarists play.
Rest strokes are a bit of an unknown quantity outside of the classical world. They sound amazing and give you great tone and better volume.
An example of both types of stroke is shown in the video below where I pluck the G string with the index finger and the low E string with the thumb.
I do each one first using a free stroke and then a rest stroke.
Listen to the difference. It is pretty big (and the video camera is nullifying it slightly as it compresses the sound a little).
You wouldn`t think that resting your finger on the next string would make much difference but it does.
Why?
A rest stroke simply allows you to pluck in a more dominant and more confident manner.
Try playing the earlier exercises again and listen to how they sound when using all rest strokes instead of free strokes (or vice versa if you are a rare rest stroke player).
Rest strokes can feel a little strange at first and can be tricky using them in songs at first so take your time with them.
Don`t worry about trying to play them everywhere if you have never used rest strokes before.
If you take anything away from this just ensure you start practising rest strokes and try to start using them where possible for a stronger and brighter tone.
---
Apply what we have gone through today if you don`t already. Unfortunately, most fingerstyle guitarists make the above errors far too often.
If you make the above errors aim to fix them all. If it is too uncomfortable to change them all then change them one at a time.
The key thing with picking hand fingerstyle technique is to remember what John Williams and Andres Segovia say – always be improving it.
It is never too late to make it sound more awesome, so aim for your picking hand technique to sound better today than it did yesterday but not as good as tomorrow.